'Maltesers Day 2022' marked by a vow to fight against eightfold poverty
13/07/2022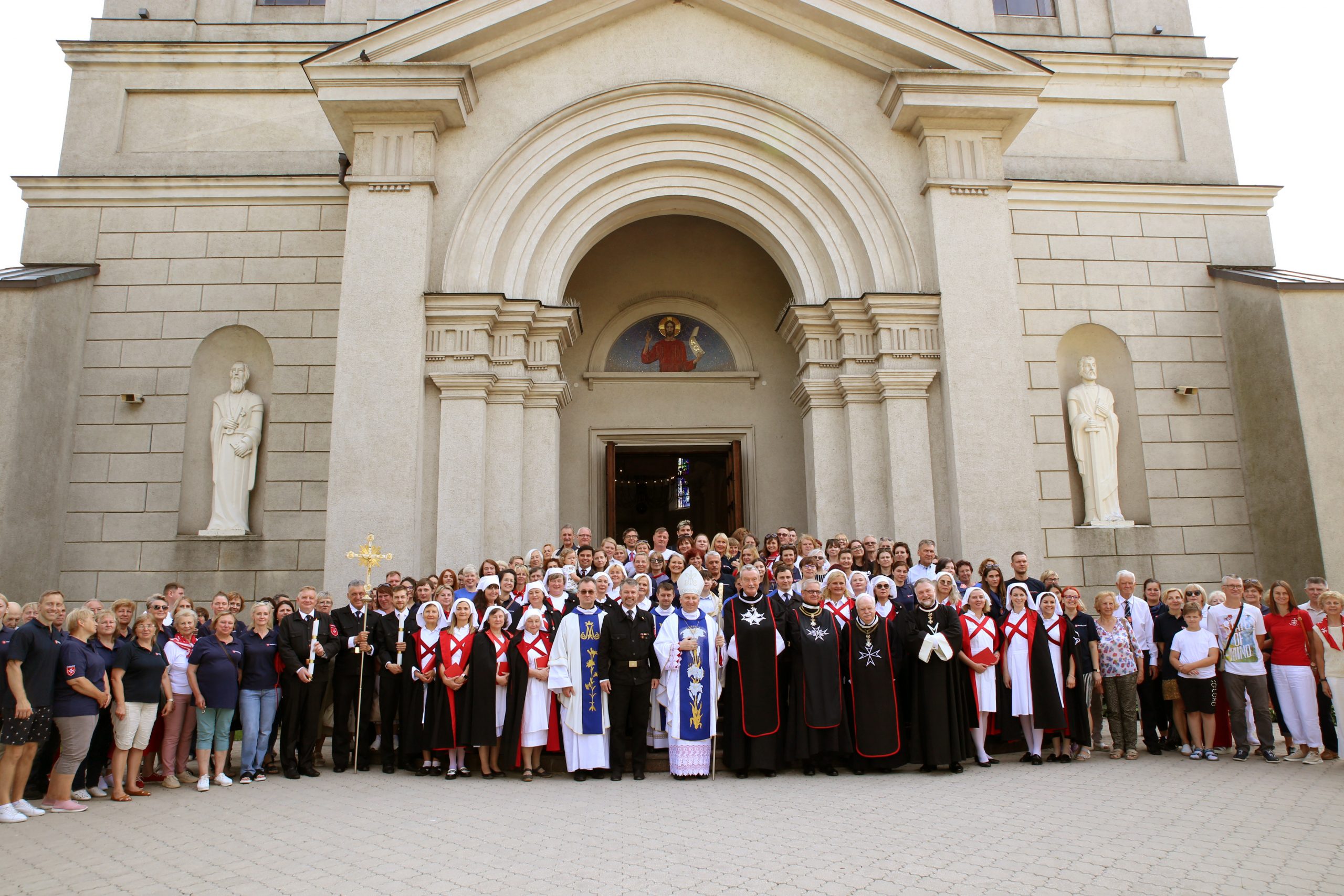 'Maltesers Day 2022' took place in Vilkaviškis district near Vištytis Lake and gathered not only Maltesers from all over Lithuania, but also guests from abroad: members of the Order of Malta from Germany, Austria and Poland.
This year was different than every year – Maltesers took an oath to fight against the eightfold poverty. The ceremony began with a Holy Mass at the Vilkaviškis Cathedral with Bishop Rimantas Norvila officiating. In the second part of the Holy Mass, Maltesers made a pledge and received a special badge of honour, which was presented by Constantin von Brandenstein-Zeppelin, representative of the German Association of the Order of Malta. May the path of Maltesers service be bright and successful. May God help us to walk the path of Faith and Help.
After the church ceremony, an award ceremony was held: the following were awarded for their merits with special Angels and the names of the Best of the Year. Agnė Naujokaitytė (Malteser of the Year), Vilnius Maltesers (Malteser Group of the Year), Evelina Jarmalavičiūtė (Young Malteser of the Year), Prienai Young Maltesers (Young Malteser Group of the Year).
This year's celebration was marked by the white color – the symbol of peace and tranquility. 11 white peace birds were presented to Malteser groups that have helped and are helping Ukrainian war refugees to find a place in Lithuania.
Meeting after the pandemic, Maltesers were happy to see each other's smiles without protective masks and reminisced about how much has been done in the fight against Covid. The most deserving were awarded special Campaign Medals by the Order of Malta.
As 2022 is the Year of Volunteering and Youth, a large number of adult volunteers and Young Maltesers were awarded certificates of appreciation for their loyalty and commitment to Maltesers values.
After the solemn part of the ceremony there was a surprise from the Ambassador of the Order of Malta to Lithuania, who could not attend the celebration due to his health, Malteser President porridge and the gift for all the guests – the Maestro Vytautas Lukočius, the soprano Ona Kolobovaitė and the tenor Edgaras Davidovičius dedicated their most beautiful songs to Maltesers. The evening ended with an ovation of the Maltesers and a song dedicated to Lithuania.
"It is so good to work in a job where the main meaning is not what you get, but what you can give to others, when you can see happy eyes, smiles on faces, and hear a sincere THANK YOU for being there. When you know that you are expected and missed every day. When you know you have someone to share your experiences with and thus create a common good. When you know that if you stumble, someone will always be there to help you up, to listen, to advise. When you are sad, you will cry together, when you are lucky, you will rejoice together. I am happy and proud to be part of Maltesers and to create my life here. Every day is a surprise, a new challenge, an invaluable experience."