"Fazer Lietuva" and Maltesers Friendship
05/02/2022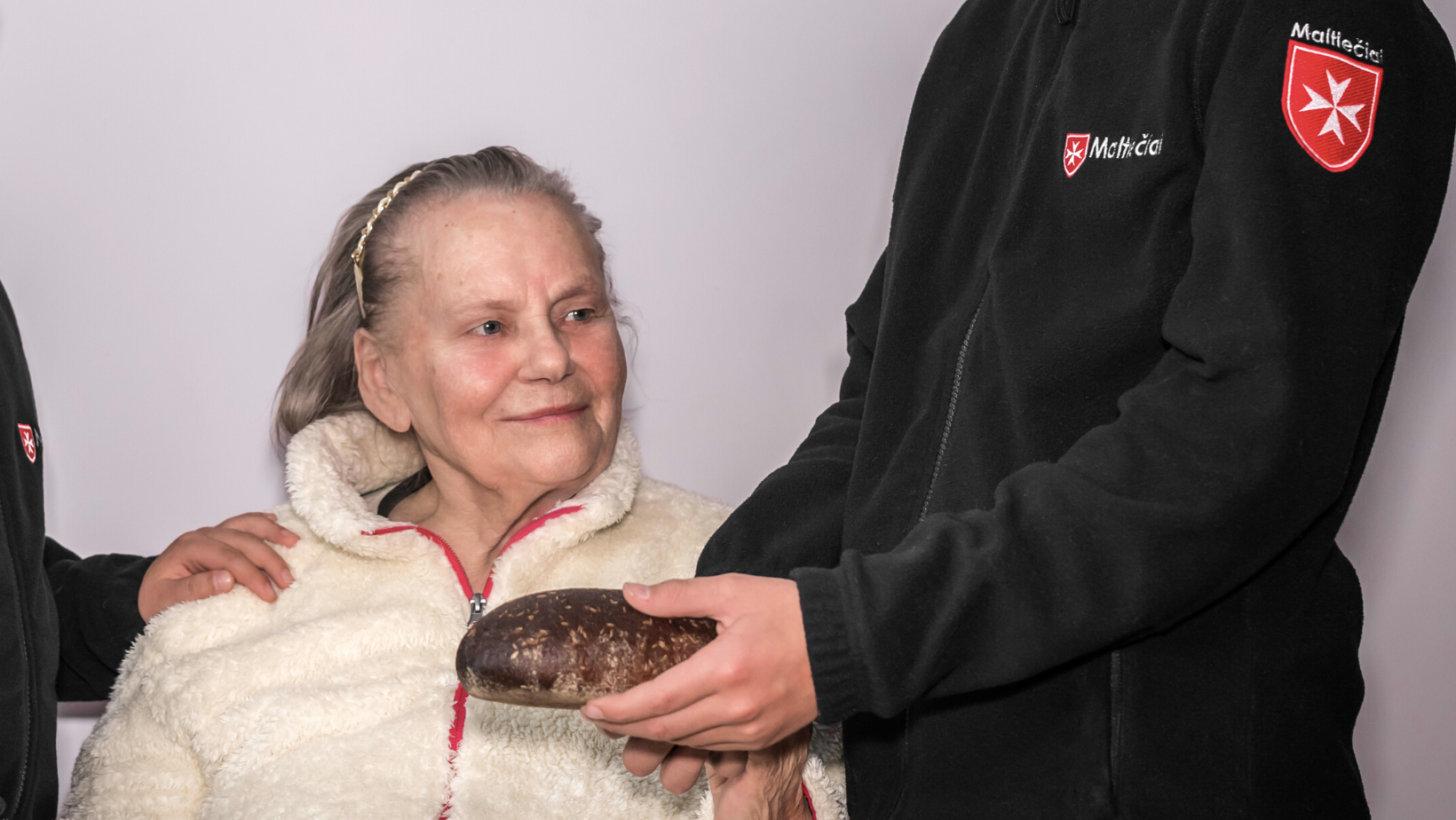 With old-age pensions in Lithuania teetering on the brink of poverty, food assistance is particularly important for the elderly. The ever-rising food prices make this situation even more acute. Maltesers take care of 2800 seniors all over Lithuania and make sure to provide them with bread when bringing hot meals. For an elderly person, a bowl of soup and a slice of bread symbolizes satiety, fullness, peace and the warmth of home.
Sharing bread has always had a social and symbolic meaning – it is a symbol of respect for others, a symbol of togetherness, linking us, Maltesers people, with the manufacturers of bread products "Fazer Lietuva". They are our long-standing companions in alleviating poverty among the elderly, one could even say that our organisations' DNA overlaps in order to make the lives of lonely elderly people in poverty more full and brighter.
Maltesers have a seven-year friendship with "Fazer Lietuva", the company behind the "Gardėsis" bread brand. During this time, we have been receiving bread products all year round to supply to the people in our care. In 2020, €13,078.38 worth of bread products has been donated by our partners, and in 2021, a thousand more – €14,049.47. On average, we receive 3,784 loaves of bread per month. All of this is shipped to 17 different locations in Lithuania.
Bread is usually delivered once a week and one loaf per week per elderly person. The favorite bread is black rye with no additives – it goes well with soup or tea, as the old people say. Such bread is especially welcome in rural areas. Virginija, a Malteser from Alytus, who delivers soup and bread to her old people, always finds her old women waiting for her at the last point. Like little birds on a bench, they meet her with only one question – maybe there is bread left. It is sacred to the old people, having lost none of its value and the importance of the daily ritual of eating.
"Gardėsis" provides seniors with bread not only on normal days but also on festive days. Šiauliai Maltesers, who delivered sweet rolls and cakes to the elderly on Christmas Day, were warmly thanked. One old woman was delighted that the baked goods made her table special – the cinnamon and poppy seed buns reminded her of the once bustling Christmas Eve, festive dinners, and the love of her family.
For two years now, Maltesers and "Fazer Lietuva" have been running the "Give a Slice of Happiness" campaign, which aims to give a slice of happiness to the Christmas Eve and Christmas Day. For the past two years, the aim of the campaign has been to invite people of goodwill to register, receive a festive parcel prepared by "Gardėsis" and give it to a lonely elderly person to make him/her happy with a visit and a treat on the occasion of the holidays.
"Fazer Lietuva" accompany Maltesers also during the holidays and in their daily activities. A long-standing friendship has already been tested. We extend our sincerest thank you and look forward to continued cooperation for their sake in their time of need.