"Maltesers' Soup" Campaign is Still Needed – the Poverty of the Elderly Continues
09/11/2021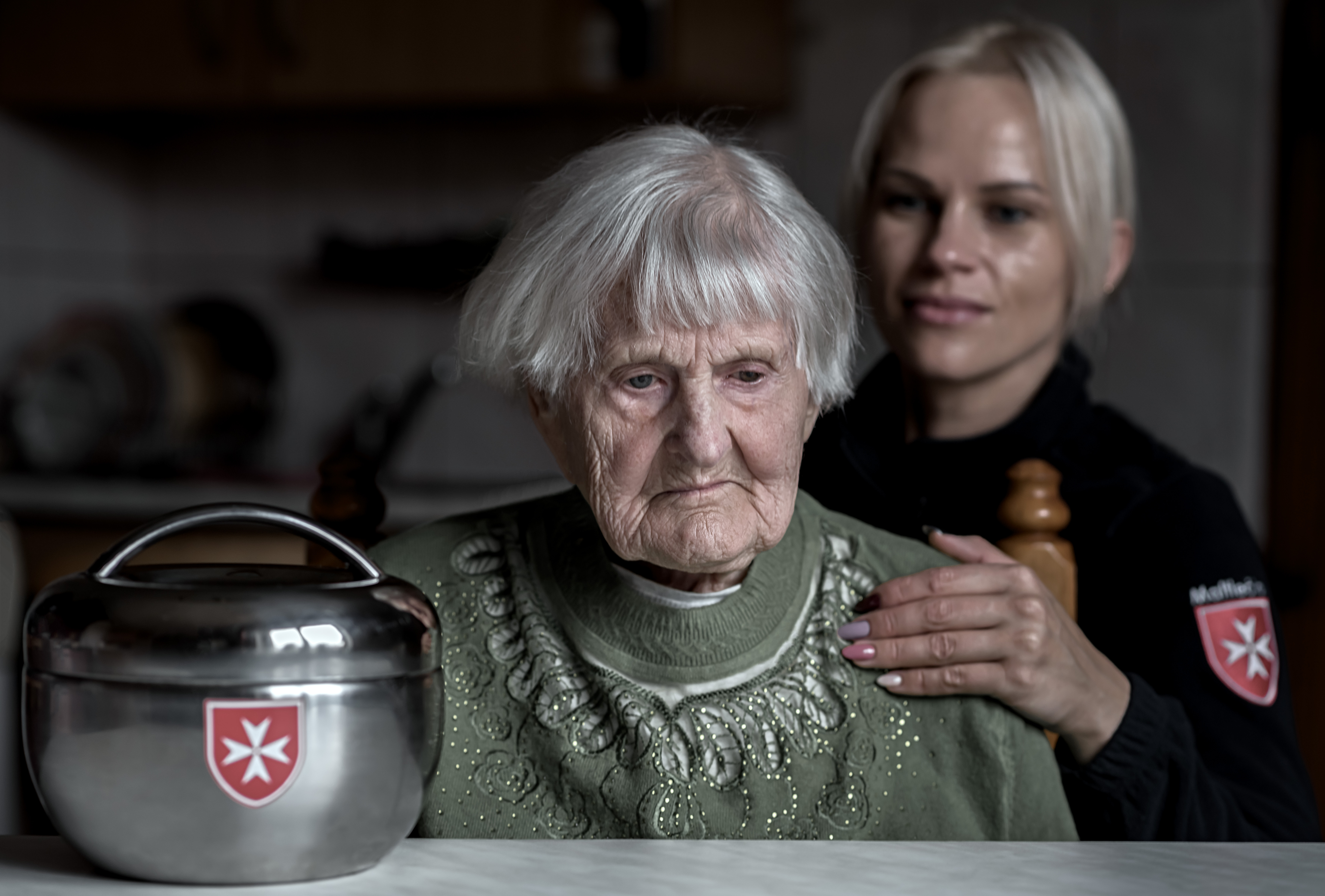 "This soup is so tasty that you can eat it and want it," says Zigmas, who has tasted the food brought by volunteer Gražina. – "I have been a widower for a long time. God took not only my wife, but also my legs. So now Gražina is both my provider and my driver. She drives me to doctors' appointments, to cemetery… I am not afraid of anything with her. Only those heating bills."
The stories of these lonely, poor old people are similar: loss of loved ones, illness, small pensions, the company of four walls and the hope that they are still needed. Maltesers mobilise the public to support them and every year before the major holidays they carry out a campaign "Maltesers' Soup", which aim is to raise funds to help the elderly. This theme is still relevant – more Malteser warmth and compassion is needed as poverty continues to persist. So the task of the "Maltesers' Soup" campaign is to unite all those who want to help the elderly.
Food shortages are a problem for the elderly on low pensions
While surveys show that the financial situation of the Lithuanian population is improving, the data of The Lithuanian Department of Statistics show that the poverty of the elderly is not yet receding. In 2020, the average pension was €377 and the poverty risk threshold was €430. This means that the average old-age pension is below the poverty line. And more than a third of pensioners in Lithuania have such incomes.
At the moment, prices are rising faster than pensions, so old people are forced to spend their meagre pension balances on food after paying for utilities, medicines and medical treatment. Hunger seems forgotten in developed Western countries, including Lithuania, but the lives of people on low incomes, such as the average pension, show that food shortages are still a problem.
Maltesers' support goes beyond food
Maltesers currently cares for 2800 elderly people in 42 cities and towns across the country. For the weakest, who can hardly fend for themselves, hot soup in thermoses is delivered several times a week, so that the elderly can eat it immediately. Food boxes are delivered to the stronger ones who can cook for themselves. If it is difficult and unsafe to do it alone, a volunteer comes to help.
Helping the elderly goes beyond food. Volunteers help with household chores (changing bed linen, do laundry, cleaning, tidying up), bring essential supplies, medicines prescribed by doctors, cares for help from specialists (doctors, lawyers, housekeepers), provide compensatory equipment in case of sickness or disability, and transport – especially during a pandemic, when it is unsafe for elderly to travel by public transport, and when it is important for them to go to the cemetery and graves of their loved ones, to visit the church, and to visit medical institutions.
A special fund has been built up for emergency work – last year, a chimney was urgently rebuilt for grandmother Onutė in Viduklė. The old one was causing many problems and even dangers – when the stove was turned on, the room would go up in smoke. If a spark were jumped from the chimney onto the floor, a fire was just one step away. Another old woman, Benjamina from Vilnius, who suffered a stroke and can no longer walk, got a bathroom adapted for wheelchair access. If Maltesers have not helped, these vital services would not be affordable for the poor elderly.
Last year's promises were fulfilled
With the funds raised during last year's campaign, Maltesers pledged to increase the number of elderly people in their care, as requests for help are received every day. This year, 200 new names have been added to the list of elderly people receiving warm meals. The geography of activities has also expanded – Raseiniai, Pušalotas, Palanga have joined.
As the population ages, there is a growing need for Day Centres for the elderly. Maltesers have opened 2 new centres in Vilnius and Marijampolė in 2021. Currently there are 5 Maltesers' Senior Day Centres in Lithuania, to which pensioners are driven by loneliness – the biggest problem for the elderly. Nijolė from Viduklė says that she is less sad about an empty fridge than the need to consult someone. So she needs to go to the Day Centre – it has a sewing machine, tools for needlework, exercise classes, and friends.
The first Maltesers' Care Home was opened
The biggest promise of last year's "Maltesers' Soup" campain was to open the first Malteser's Care Home. And it was fulfilled – on September 7, Care Home by the name of St. John the Baptist, the patron of the Order of Malta, was opened. It is located in Viekšnaliai, Telšiai. The elderly who live here enjoy the atmosphere of a family home because, as they say, they live in rooms – not in wards, and no one calls them patients or sick people, only names. They can come to the dining room at any time to drink tea, have a biscuit, or find someone to talk to.
John, who lives here, is immediately moved to tears: "I don't need anything more. There is love here. It's all from the heart. And I love everyone now." John lived miserably alone, so lacking in simple human connection. Like Antanas. He was tired of living alone, too. He can only walk with a walker. A widower. The old man called by himself and asked to see the Maltesers. Now he is happy.
Maltesers would like to open more homes, but it costs a lot of money. If such plans were to become a reality, more elderly would be able to find shelter in their old age and receive help without deprivation of dignity.
Everyone can make a donation to help the elderly
The elderly in poverty depend on our kindness to survive without help. You can make a loving and respectful donation – maltieciusriuba.lt
The campaign will run until 7 January 2022.
Thank you on behalf of all the elderly waiting for help.
Photo by Egidijus Knispelis.