'Prezo' bakery made our elders to believe again in Christmas miracles
06/03/2020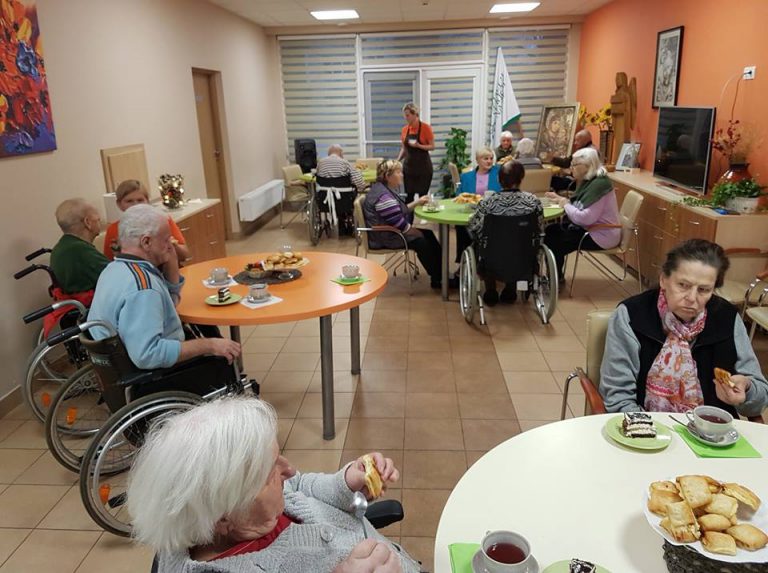 Our long-term partner 'Prezo' bakery has once again showed their loyalty and decided to cheer our lonely elders by giving them fresh-baked buns and cakes. During all December, representatives from the bakery have visited lonely elders in Kaunas, Alytus, Aukštadvaris, Telšiai, Tauragė, Kelmė, Akmenė, Šilalė, Ežerėlis and Pivašiūnai.
Maltesers from Alytus have decided to ask elders to join them for a cup of tea and 'Prezo' bun just after the Holy Mass. This idea was so heartwarming that Alytus Maltesers have invited some other lonely people who miss a simple talk and attention more than anything else. For this occasion, young Maltesers have organized a folk songs concert and asked elders to remember their favorite songs. Even though this was only a one-time meeting, but elders looked very happy, since most of their time is spent in solitude and silence.  Therefore, they felt very excited for even the shortest conversations with others.
Our 'Prezo' friends were so generous that elders could not only taste buns at the meeting but also take some home. While trying different buns, our elders were not only surprised by the unique taste but also immersed themselves into memories when they were young and could bake similar buns or cakes at home for their loved ones.   This surprise by 'Prezo' bakery was not only about trying different tastes but about sweet memories as well. We also took care of those who were not able to attend the meeting and brought them some buns next day together with their portion of Maltesers' Soup.
A similar meeting for 'Prezo' bakery was planned by Maltesers in Ežerėlis nursing home.  General manager of Ežerėlis nursing home Irena Tamulevičienė confirmed that such meetings are cherished by all the elders. There is no need for any words when you see happy faces, big smiles and hear never-ending words of gratitude for the visit.  On behalf of our dear elders we would like to express our gratitude for our long term friends 'Prezo' bakery.