Summer Camp for Disabled – A Time for Getting Hope
22/06/2021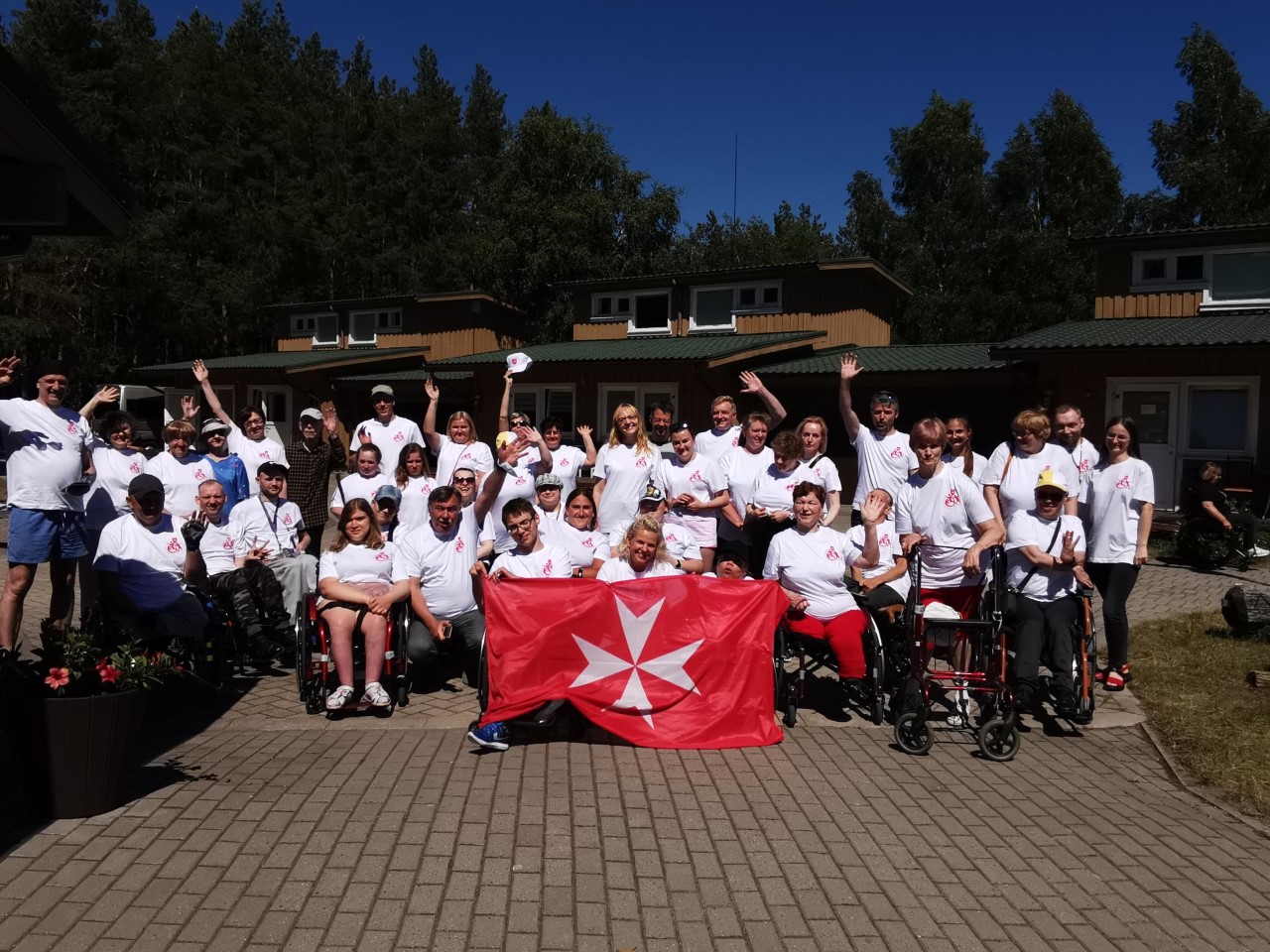 On June 14–18, Lithuanian Paraplegics Association's "Landscape Therapy and Recreation Centre" in Monciškės hosted the Maltesers' summer camp for people with disabilities "Turn Disability into Power 2021". During the opening of the event the President of the Order of Malta Relief Organization Bronius Einars and the Chairman of the Ethics Commission Romas Abunevičius wished the participants a great time. Irena Beržinskienė, Coordinator of Spiritual Education and Disability Affairs, encouraged the disabled "to drown disability in the sea and bring power home" – these words gave the meaning to the whole time at the camp. There were 25 people with special needs and 21 volunteers assisted them.
The participants had the opportunity to engage in different educational and intellectual activities by playing strategic games (checkers), revealing their creative potential (drawing on pebbles), assessing their teamwork and intellectual abilities (mindfight game) and gaining historical knowledge (excursion in Šventoji). The programme was complemented by the much expected Red Noses, where the clown doctors not only showed their acting skills by juggling and performing various tricks, but also organised a joint evening programme by sharing ideas and mentoring the participants. This encouraged people to discover their hidden strengths, allowed them to forget their everyday worries and rewarded them with the attention that people with disabilities need.
Spiritual strength and self-confidence were also provided by a half-day at the Church of the Most Holy Virgin Mary – Star of the Seas in Šventoji. The Mass was offered by the spiritual leader of Maltesers Vytautas Rapalis, and the pastor of the church Zenonas Degutis gave a wonderful sermon about the spiritual powers. In the daily activity videos that the participants made before the camp and shared on the last day, proved that they are capable of doing much more than anyone thought.
However, the most emotional part was the opportunity to visit the sea: hot sunlight and the Baltic Sea water during the days and beautiful sunsets in the evenings. For many of the participants, the camp was a chance to swim in open water for the first time or after many years – this experience made them smile and reinforced faith in life. The organisers would like to thank everyone who contributed to a meaningful and memorable time for those who need it most.