Šiauliai Maltesers together with Italian Air Force Officers Congratulated Seniors on International Women's Day
12/03/2021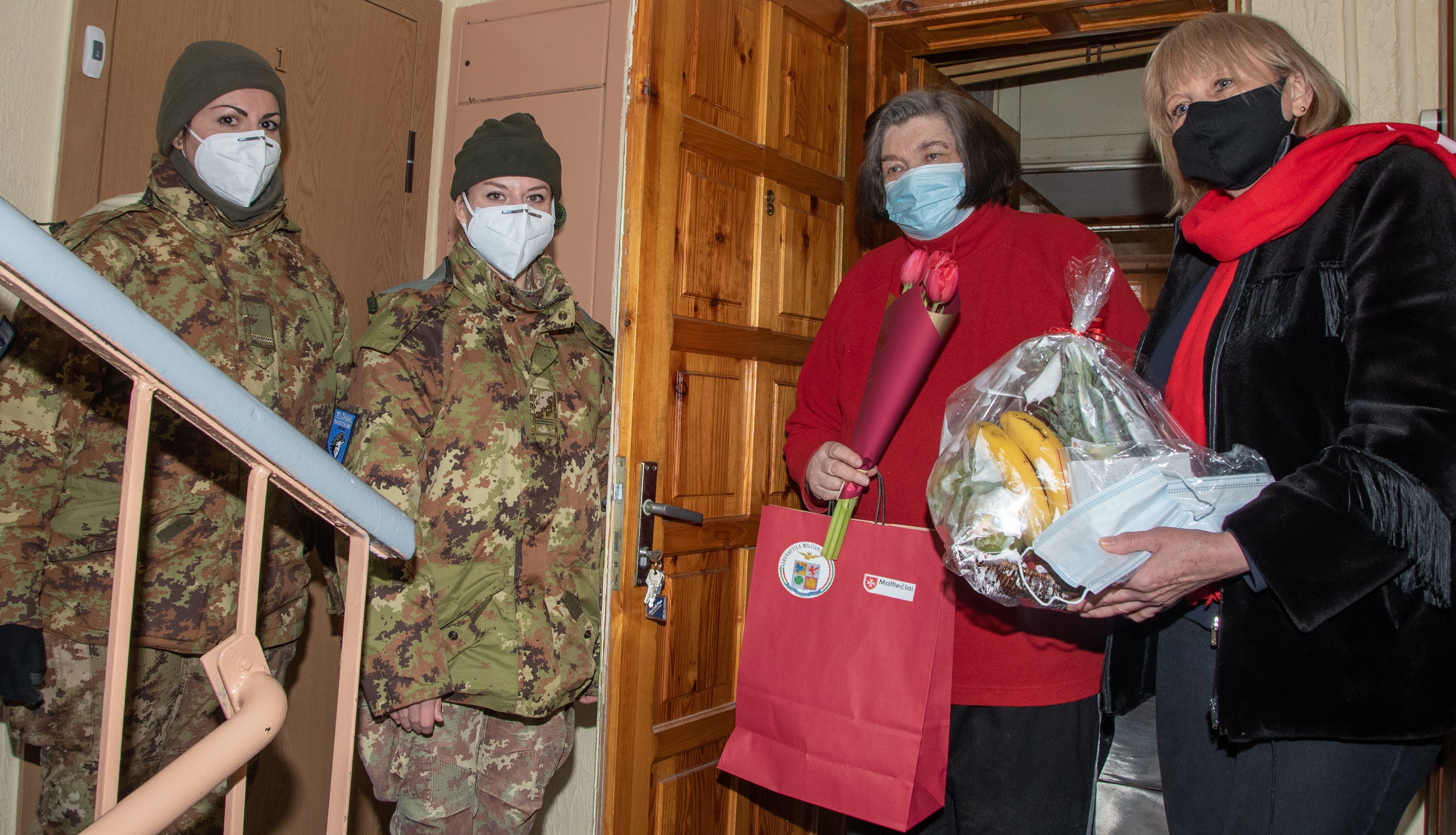 The Maltesers of Šiauliai together with the Italian Air Force commander Colonel Daniele Donati and his team congratulated 20 lonely seniors on the occasion of the International Woman's Day.
A basket of exotic fruits and a Lithuanian cake "šakotis" was a gift from the soldiers, bought at their own expenses, and a bouquet of tulips from the Maltesers. Many seniors were overwhelmed by the attention shown by the men and women in uniforms, who are currently on a NATO mission for the Baltic Air Policing.
"Buongiorno, colleghi. Oggi anche voi siete maltesi, andiamo! "–Mrs. Bronė, the manager of the Šiauliai group, invited the Italian soldiers with a short greeting to the Maltesers' event.The Maltesers and three groups of soldiers joined on another peace mission – they greeted the local people and seniors, who are in need of attention and help.
This helped for at least small group of Šiauliai residents to find  out who is flying the planes over their homes and protecting them. These warm, cheerful, and caring people spoke in Italian, which was a pleasure to the resident's ears.
Even Arvydėlis, a senior under the care of Maltesers, despite his innate shyness, thanked the soldiers for protecting us. He even forgot what day it was, that the occasion was for celebrating International Women's Day. Later, he stood in the stairwell for a long time, escorting the extraordinary guests.
There was tones of gratitude, but as well frustration for not being able to serve guests a cup of tea. Some seniors handed their favorite sweets to the soldiers. Some elders with higher education tried to tell everything what they knew about Italy, but unfortunately, they did not speak Italian.
The guests greeted the seniors in Lithuanian, asked how they were, what challenges and problems do they face, and kindly inquired how they could help the elderly more. They promised that they will help in the future. Not only for seniors, who are taken care by Maltesers, but also for the children.
To anyone who does not understand Italian, "Oggi anche voi siete maltesi" means – today you are a Malteser. This is decisive because everyone can be a Malteser for at least once a year.Andiamo! Go ahead! Mrs. Bronė, the leader of the Šiauliai Malteser group, addressed it to the Italian soldiers in their native language.
The whole event was executed under the COVID19 restrictions – by wearing masks and respecting social distance.