Important information for Ukrainian citizens
14/03/2022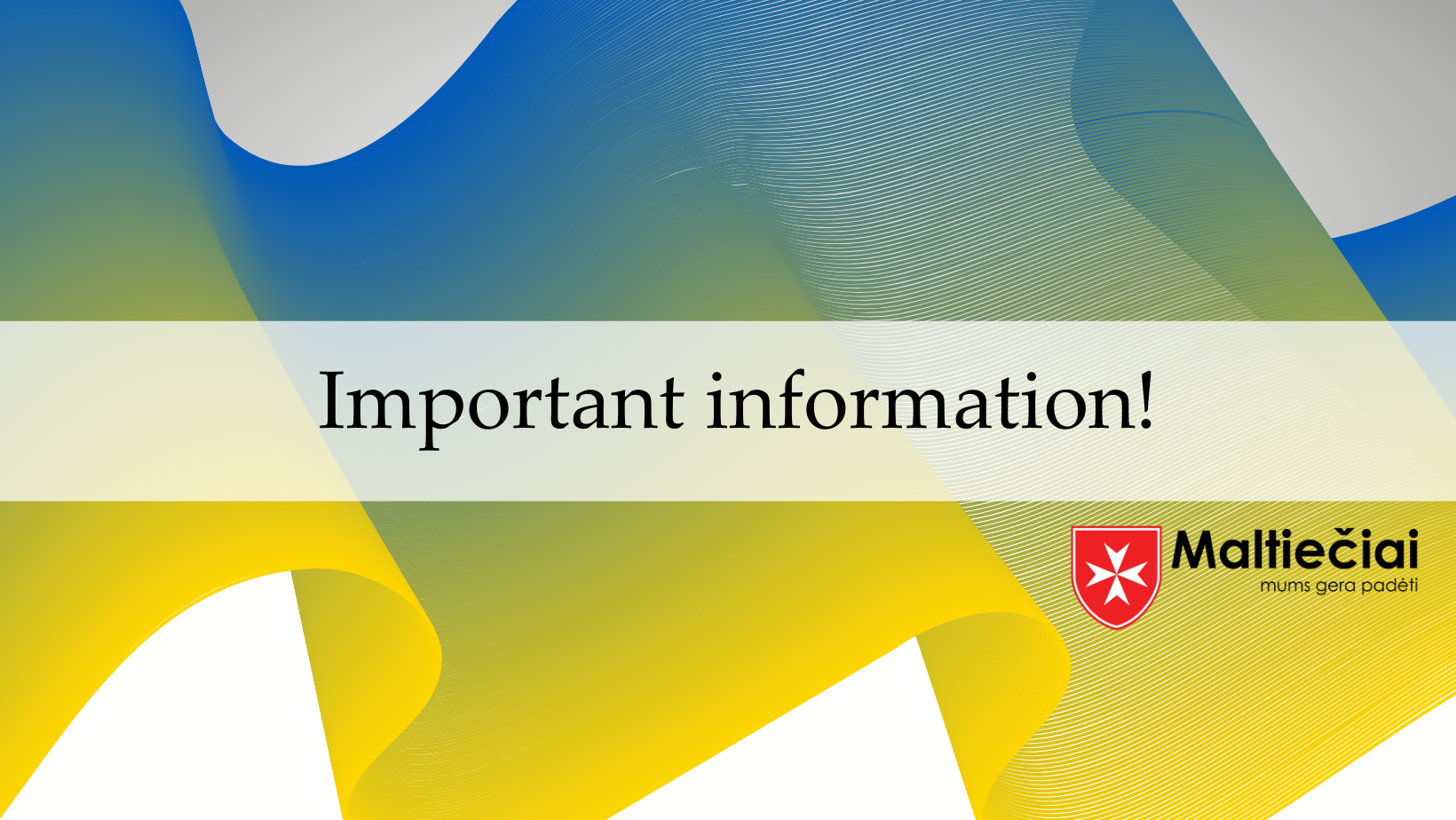 MALTESER ACTIVITIES
Maltesers coordinates voluntary assistance to Ukrainians in 10 Lithuanian cities:
Kaišiadorys, Audronė Petraškienė, tel. 864036592; Girelės 1, Kaišiadorys
Kazlų Rūda, Ramutė Vinikienė, tel. 869840147; Atgimimo 8A, Kazlų Rūda
Kelmė, Lina Šimkevičienė, tel. 861486461; Vytauto didžiojo 110, Kelmė
Kėdainiai, Aušra Vaidotienė, 861008096; Ariogalos 4, Josvainių mstl., Kėdainiai raj.
Kupiškis, Skaistutė Paulauskienė, 861592589; Vilniaus 8, Kupiškis
Marijampolė, Marija Miliauskienė, 869909080; Laisvės g. 18 / Butlerienės g. 20, Marijampolė
Viekšniai (Mažeikiai district), Emilija Plastinina, 868736269; Bažnyčios 15A, Viekšniai, Mažeikiai district
Prienai, Lina Suchorukovienė, 868686789; Laisvės aikštė 12, Prienai
Raseiniai, Agnė Naujokaitytė, 862015585; Jaunimo 10, Raseiniai
Zarasai, Laimutė Lumbienė, 8 610 19978; Bažnyčios g. 2, Zarasai
Vilnius, Humanitarian and Call Centre, Paulius Ramanauskas, +370 600 23 220, Gedimino pr. 56B, Vilnius
Maltesers take care of humanitarian aid: we distribute humanitarian and food parcels, items, clothes, medical supplies, accompany to institutions or accommodation places.
MALTESER HUMANITARIAN AID CENTRE
If you are looking for information on how to help Ukrainians or to receive assistance, please call +370 600 23 220
Opening hours: Monday and Thursday 12:00-20:00, Tuesday and Friday 10:00-17:00, closed Wednesday, Saturday and Sunday. Information is available in Lithuanian, English and Russian.
HELP BY TOPIC
CONDITIONS FOR STAYING IN LITHUANIA
Ukrainian citizens with biometric passports enjoy visa-free travel (90 days stay in Lithuania and the whole Schengen area within 180 days).
To obtain a temporary residence permit in Lithuania and a national visa (for 1 year), you should contact the registration centre.
REGISTRATION IN LITHUANIA
Upon arrival to the territory of Lithuania, Ukrainian citizens should apply to the registration centre (Pramonės st. 1B, Alytus). Multi-day accommodation is available at the registration centre. Once registered, people will have access to full medical care in clinics and hospitals and will be directed to accommodation.
For more detailed information, Ukrainian citizens can contact the general information line of the Migration Department at +370 707 67000, from abroad +370 5 271 7112, or by e-mail at info@migracija.gov.lt.
HELP FOR CHILDREN
The NGO "Save the Children" provides humanitarian and psychological support to children and pregnant women.
Contact: +370 5 261 0815, e-mail: informacija@savethechildren.org
HEALTH SERVICES
For health services, contact the medical establishment of the municipality where you are registered. You can get there:
emergency and health care services;
medical rehabilitation for those wounded in the war in Ukraine;
vaccination against Covid-19 (tel. 1808; if you call from a non-Lithuanian number, dial: +370 66 01 1808). More information can be found here.
Free health insurance for underage children here, tel. 1828.
Click here for a list of facilities providing free emergency dental care to war refugees.
WORK IN LITHAUNIA
Register and ask questions at the Employment Service, tel.: 1883 or email: info@uzt.lt, also:
+370 658 26 755 Vilnius
+370 374 09 882 Kaunas
+370 672 28 204 Jonava
+370 672 98 949 Alytus
+370 658 24 346 Klaipėda
+370 610 38 727 Panevėžys
+370 616 46 608 Šiauliai
+370 607 54955 Marijampolė
More information here
You can start working:
if you have a biometric passport, you can start working immediately. You do not need a work permit;
if you do not have a biometric passport, you will be able to start working after registering with the Migration Department (department or registration center). You do not need a work permit.
SCHOOL / LEARNING
Contact the Reception Desk of the municipality where you are staying.
Study in Lithuania – more information here.
FREE PSICHOLOGICAL SUPPORT (UA)
EMERGENCY HELP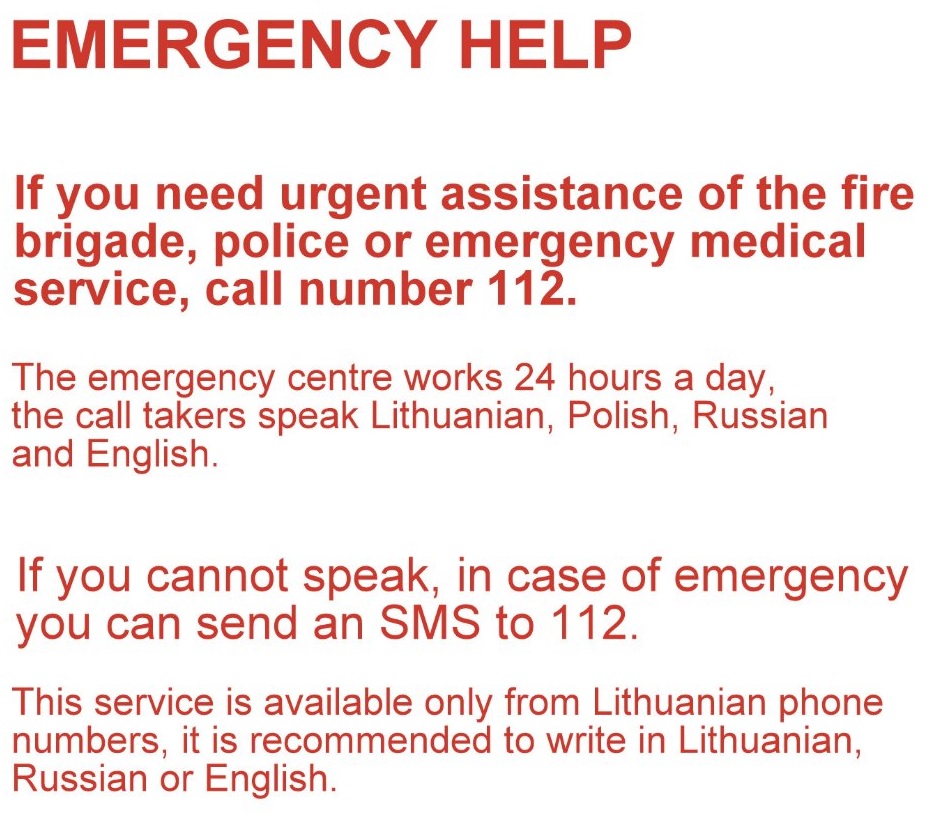 CONTACTS BY TOPIC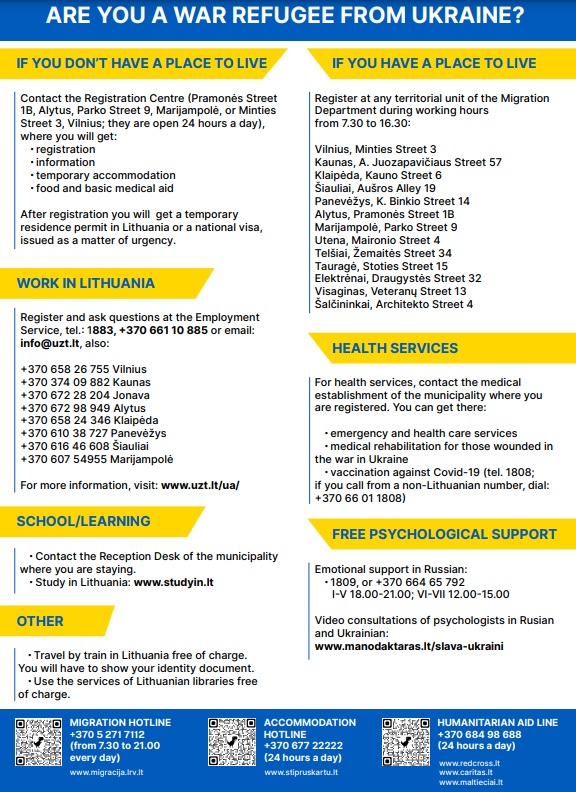 OTHER SERVICES
BANK SERVICES
Banks operating in Lithuania are ready to open accounts and provide basic banking services to war refugees from Ukraine free of charge.
To open an account in a credit institution, a Ukrainian citizen's passport – biometric or ordinary – will be enough for the purpose of identification. Other required documents may differ bank to bank.
TRAINS AND TROLLEYBUSES
Ukrainians can travel free of charge by train in Lithuania (for the first three months after arrival) and by public transport in Vilnius (all the time). You will have to show your identity document.
LIBRARIES
Use the services of Lithuanian libraries free of charge. Every city and town has a library. Ukrainian citizens shall be issued library cards at public libraries free of charge, provided access to computers and wireless Internet, family, youth and leisure facilities, they will be able to participate in educational activities, children's sensory readings, visit exhibitions and other cultural events, access various board games and library collections of interactive games, music, films, books and periodicals in various languages.
BRINGING PETS TO LITHUANIA
Ukrainians whose pets are properly marked, vaccinated, have a valid animal passport, and meet all the requirements for the entry of pets into the EU will follow the usual procedure for crossing the border. Animals coming from Ukraine that are not micro-chipped or have not been vaccinated against rabies will be micro-chipped and vaccinated, and therefore subjected to simpler quarantine conditions.